Instructors are the heart of the Arbutus community!  The Arbutus Folk School Mission is to "Enrich lives and build community through joyful, hands-on learning with master artisans."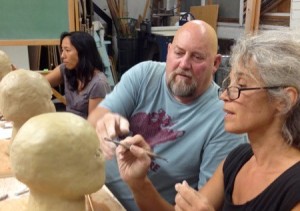 Arbutus hires instructors who engage with a broad community of artists, such as guilds, associations and other learning groups. This shows an interest in professional development, openness to learning and a dedication to craft education. We believe a person can dedicate a lifetime to any of these crafts and still discover new ideas! We are interested in instructors with a sense of wonder, exploration and sharing.  Our instructors are the heart and soul of our organization – they are advisors, advocates and friends.  We share a common goal of promoting craft education as the foundation of building a strong Northwest craft economy.
Please note the following:
In order to provide the highest quality experience, our classes will be routinely evaluated and feedback from students and instructors are highly encouraged.
All instructors are independent contractors.  We will request a contract to be signed and a W-9 submitted.
Prospective Instructors: If you are interested in learning more about teaching at Arbutus, please contact our director to set up a meeting:
Stacey Waterman-Hoey: stacey "at" arbutusfolkschool "dot" org.
Do you know someone who would be a great teacher for Arbutus?  We would like to know who they are and how to reach them!
Documents:
Instructor Materials Expense Reimbursement Form: Reimbursement Request Form with Policy Language
Class evaluation form :   Digital version: Arbutus Folk School evaluation fill-in.  Digital evals can be emailed to: info@arbutusfolkschoo.org.  Print version: blank eval 11-2013  Print versions can be mailed to: Arbutus Folk School 120 State Avenue, NE, #298, Olympia, WA 98501.