Our Open Mic Night is a chance for acoustic music lovers and practitioners to share with the community and gain valuable experience and support. This event is ALL AGES, OPEN GENRE AND ALL ACOUSTIC.
The Arbutus Acoustic Open Mic is the 2nd Monday of every month from 7-9 pm.  Arrive between 6-6:45 to sign up to perform.  
NOTE: STARTING MONDAY JAN 13, 2020 THE ARBUTUS OPEN MIC WILL BE LOCATED AT PERCIVAL PLACE (FORMERLY BEN MOORE'S CAFE) AT 112 4TH AVE W., OLYMPIA, WA 98501
The M.C. and organizer of the event is Mark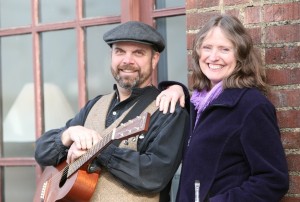 Iler.  Mark started and ran the open mic for Victory Music in Seattle for over 20 years (Victory music organizes the open mics at Elliot Bay Books, Antique Sandwich Company in Tacoma and many more in the Puget Sound region).  Our goal is to support acoustic musicians on their journey of exploration and growth.  A small donation to Arbutus is suggested by non-performing audience ($2-$5). Donations are important to keep this event going!
2019 Dates at Arbutus Folk School: 
Nov 11, Dec 9
2020 Dates at Percival Place (formerly Ben Moore's Cafe) 112 4th Ave. W. Olympia.
Jan 13, Feb 10, Mar 9, Apr 13, May 11. June 8, July 13, Aug 10, Sept 14, Oct 12, Nov 9, Dec 14.
Arbutus Open Mic Policies
We will have a PA system, but no amplifiers will be permitted. Among other reasons, it slows down time between performances.
Open genre, all ages, any acoustic instrument.  No spoken word.
Performances are limited to 10 minutes or 2 songs, whichever is shorter (including set-up time).  If the list of performers is small, the host can decide to allow 3 songs or can run through the list twice.
Sign up between 6:00 – 6:45. Names will be randomly assigned time slots so everyone has an equal opportunity.  There is an exception for first and last slots which can be requested.
Musicians up next must be ready to go.  The MC will call your name at least one performance ahead.
Cover charge will be by donation (suggested $2-$5). Performing musicians don't pay.
Arbutus will have a table to sell your CDs etc.  Arbutus will not collect a fee.
Performers are expected to provide a "listening environment".  Distractions and talking during the event should be minimal.  This event is intended to support the musicians.
Join us every 2nd Monday for Open Mic!