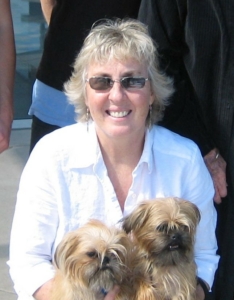 Van Cline's art process combines photosensitive and cast glass. After visiting Kodak, 1979, she began to utilize a film emulsion on glass, while completing her MFA at Massachusetts College of Art, Boston. In 1983, she was an inaugural fellow at Wheaton Glass Industries, NJ, helping to develop a program allowing artists in their glass factory, and was invited back as a Masterwork artist, 1990. In 1987, she was the youngest artist awarded the NEA/Japan US Friendship Commission Award, where she traveled while photographing Japan for six months. She won the Fujita Prize, at the inaugural opening of the Glasmuseum in Denmark, 1988. In 1993, she was commissioned by Arts America, a branch of USIA to fabricate a large glass installation that traveled to 14 venues in S.E. Asia, after its inaugural opening at Cincinatti Art Museum. One of 13 Americans, she was included in Aperto Vetro, Museo Correr, Venice, Italy, 1996, co-curated by the British/Italian Government. In 1998, she won the Grand Prize at Kanazawa Museum, Japan. In 2001, she worked with Dupont Industries Headquarters, developing photographic imagery encasing safety glass for a large commission at a private residence in Tel Aviv.
Using industry is an important part of her creative technique, whether it is an aerospace industry etching photographs on seven feet bronze slabs, using an intelligent computer lighting system to project her moving images up to 50 foot in height, or being invited into Schott North American Glass Industries to use their glass furnaces to cast photosensitive glass prisms for her architectural scale photo vessels. In 2007, wanting to expand her realistic glass castings, she moved close to a bronze foundry to learn mold making techniques, which she adapted to fabricate life sized figures into ivory sugar glass, a process she invented using time- heat compression in a kiln. A detailed interview of her art journey was recorded in 2010 for the Oral History Program, National Archives of American Art, Smithsonian Institution, Washington, D.C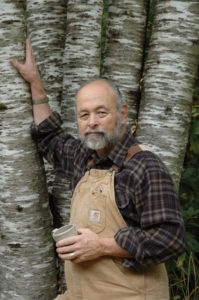 Terry Liberty is a long time woodworking enthusiast having started in his dad's home workshop as a child. Although not a professional, Terry has built several of the furniture pieces in his home. His work includes an eight foot woodworking bench, a drop-leaf dining room table, a free standing entertainment center, print cabinet, pencil post bed, dresser, display cabinet, work tables, spice racks and several decorative boxes for friends and family. His current project is a secretary desk made of big leaf maple. Terry's major inspiration came from his father and from the writings of James Krenov. His hope is to impart some of his knowledge and inspiration to other potential woodworkers and to learn from them as well.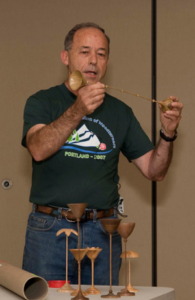 I make what I like to call "Functional Art".  These are items turned on a lathe from reclaimed/recycled wood that have a functional use, yet reflect the natural beauty of the wood.  I've been teaching woodturning to ages from 7 to 70 for the past 12 years.  I mentor other woodturners, am the founder and past-president of the Olympia, Washington woodturning club.  I volunteer with the local high school wood shop where we have several students learning to turn wood, and I chair the annual youth program for the American Association of Woodturners (AAW) Symposium.  I'm often called to make specialty items and do restorations work to order.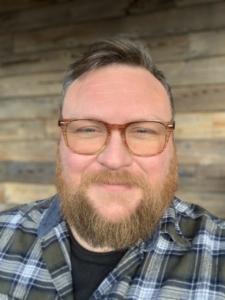 Alex Hill has been woodworking for 13 years.  He's made everything from small boxes and bottle openers to furniture and tiny houses.  While studying architecture at the University of Nebraska-Lincoln, his passion for design really sparked.   Since moving back home to Washington in 2016, he has became proficient in designing and building floating docks as well as continuing building and studying woodworking.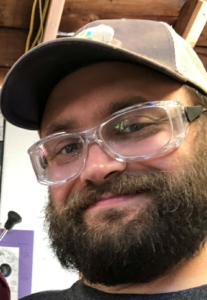 John Chernoff is a long time resident of Olympia and a graduate of The Evergeen State College. He has worked as a theater technician, remodel carpenter and now currently teaches Shop & Robotics at Jefferson Middle School in Olympia.  When not assisting students with bird houses and toolboxes John likes to build projects that fit the needs of the client and will last lifetimes. Currently building a workbench his next project will be cabinet doors for his home and a cedar fence for a client. John is eager to bring foundational woodworking skill, techniques and enthusiasm to a wider audience through the Arbutus Folk School.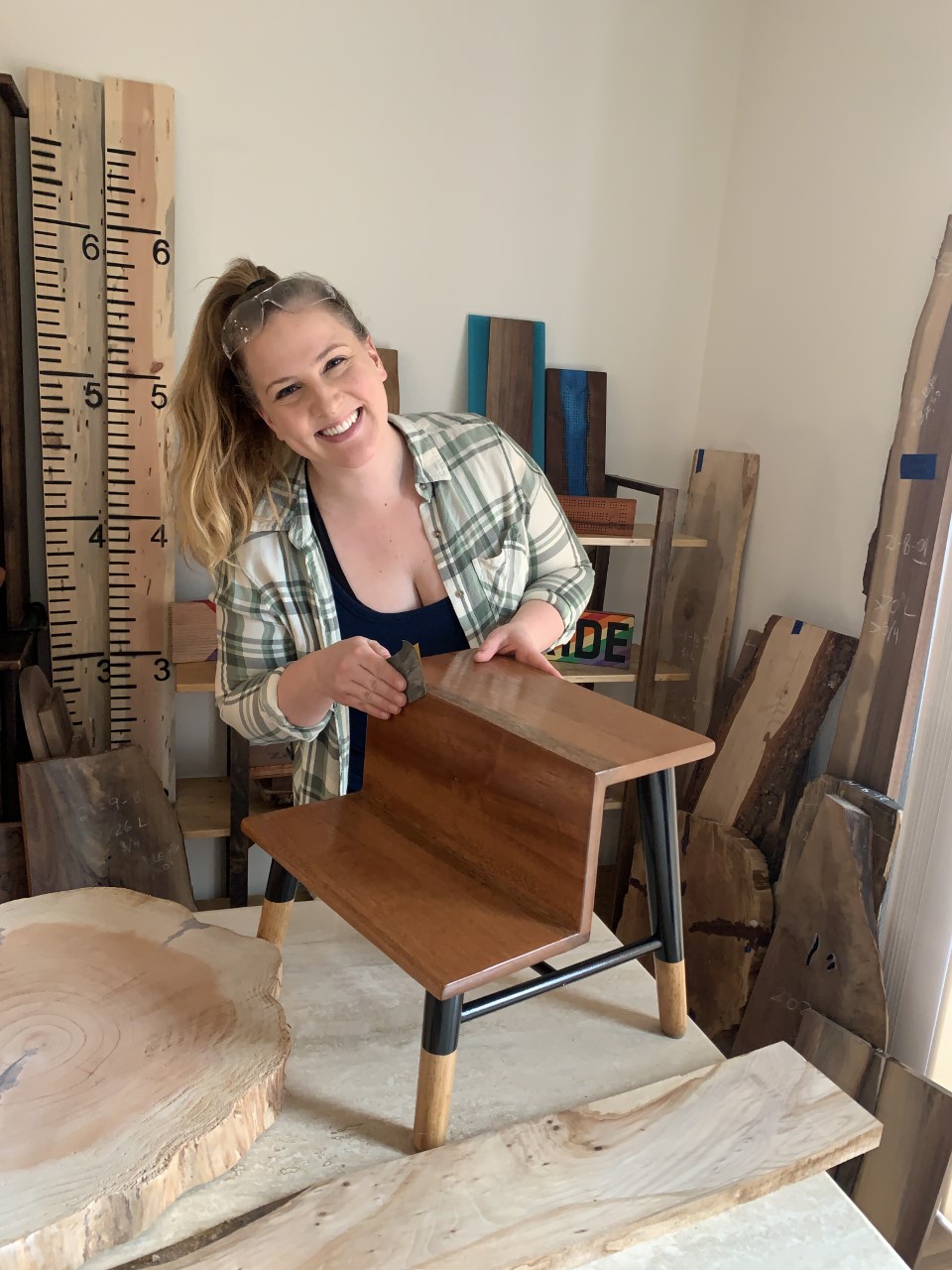 Born and raised on the mountains and shores of the Pacific Northwest, Allie Robins has been exploring various art forms since her youth. Her longtime passion for woodworking was further fueled by studying sculpture in Europe, and establishing a tree farm in western Washington. After a 10-year career managing projects with the Department of Defense, Allie finally made her long-awaited career shift into full-time woodworking. Today, she designs and builds original and custom furniture, art, and other pieces inspired by the natural beauty of her home region. facebook.com/contornowooddesignstudioHer curiosity, independence, and passion for learning inspire her to further explore different materials and art forms, including welding, sculpting concrete, and more. Intentionality, precision, and experimentation are key themes of her work and teaching style. Outside of the studio, Allie can be found backpacking, skiing, playing the guitar, and loving life.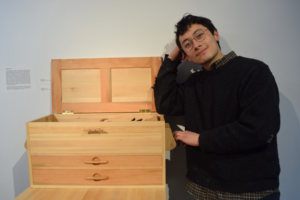 I first started woodworking  at The Evergreen State College in 2015. The year prior I had been studying cultural and environmental studies, but eventually shifted my academic focus to furniture making and design. Soon after, I started working at the campus woodshop where my duties involved helping many dozens of students with a wide range of woodworking projects. Although my academic studies shifted, I have continued to independently study politics, culture, and their intersections with the world of fine woodworking
After graduating from Evergreen I continued to practice woodworking during my artist residency at Arbutus, and also as an employee at a local woodshop. I find that I enjoy woodworking the most when I'm making something for a friend or family member, and want to help others do the same.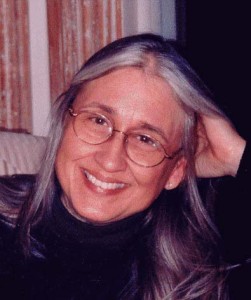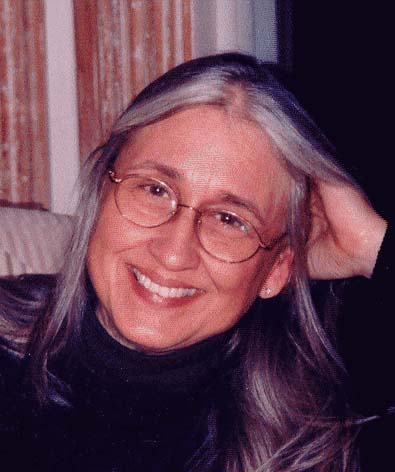 While stitching by her grandma's knee at age 4, Bobbi developed a lifelong passion for needlework.  She pursued it through her college career, volunteered at a number of museums, wrote magazine articles, delivered lectures, and has taught over 30 years.  Specializing in "vintage" fine hand sewing techniques, with particular interest in costuming and embellishment, it remains a passion.
Bobbi's teaching philosophy is one that endeavors to enlighten students to new materials and techniques, encouraging them to add to their own personal repertoire.  She likes to teach technique as well as educate the eye to recognize both past uses and future possibilities of such materials and techniques.  Her personal affinity is for the "past", reflecting a period style, but she does, however, appreciate and encourage each persons' own vision of needlework and thoroughly enjoy each individual creative process.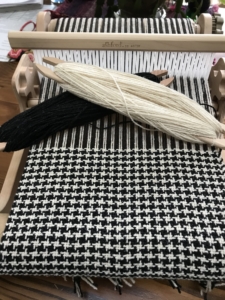 I began weaving on a rigid heddle on January 1, 2016.  I've been teaching classes since May 2017 after taking many classes myself.  I have also taken up weaving on four & eight shaft floor looms.  Some other classes I've taken are Coast Salish weaving utilizing twining and twilling techniques and tapestry weaving.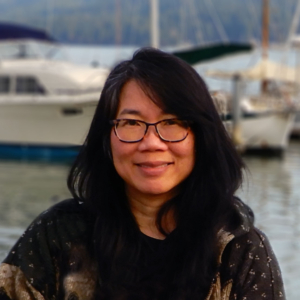 Kuen Kuen Spichiger is a nature-inspired artist, children's picturebook illustrator and author, and art educator living in the woods with her family in Shelton, Washington. Nature, her entomologist husband and their young inquisitive daughter are her inspirations. 
Kuen grew up in Hong Kong and earned a Bachelor's Degree in Graphic Design. She was an art teacher and a graphic designer and then became a Course and Event Executive Officer in a children's art and design creative studio in Hong Kong for 11 years. She furthered her studies in the United States and earned a Master's Degree in Art Education. In 2014 she established her business, Kuen Art Shop LLC, in which she combines her knowledge, skill, and love of nature in art and art education to create innovative nature-inspired educational creations and services. She is active in her community by offering art classes, illustrating children's picturebooks, generating various community programs, participating in various artist-in-residence programs, engaging in arts and crafts festivals and curating her solo and group art exhibitions. Her energy, creativity and contributions to the community were recognized by Perry County Council of the Arts and she was awarded the Artist of the Year in 2017. Her book "Bee Umbrella Sky, The Miao Legend of Batik in Guizhou, China" received the "Best Publishing Award" in the children and teens category in the 2nd Hong Kong Publishing Biennial Awards 2019. Her nature-inspired educational art can be viewed at www.KuenArtShop.etsy.com and www.facebook.com/kuenart.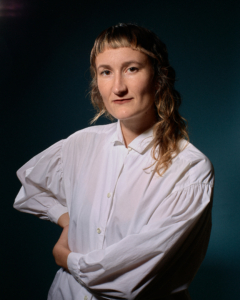 Kirsten is an artist and naturalist based in Olympia, Washington. She was born and raised in Kirkland, Washington and learned to sew and knit from her knitting-obsessed mother at a very young age.
She graduated with a Bachelor of Arts in Environmental Studies from Western Washington University and a Master of Environmental Studies from The Evergreen State College. Her studies have focused on restoration in the Puget Sound. She currently works as an Aquatic Land Manager for the Department of Natural Resources. 
Informed by her studies, her art has focused heavily on sustainability. She gives new life to secondhand textiles using techniques such as machine and hand-sewing, applique, mending, and quilting. She sources most of her material from local thrift stores. 
She recently became passionate about natural dye as it combines her love of plants and foraging, scientific processes, and textiles. Over the years, she has gained knowledge through group studies and workshops focused on mordanting, ecoprinting, botanical ink making, shibori, and more.
Besides her love of crafts, she loves to spend time on the water, ride her bike, and grow flowers in her natural dye garden. She also hosts a monthly craft club in downtown Olympia. 
Find out more on her website: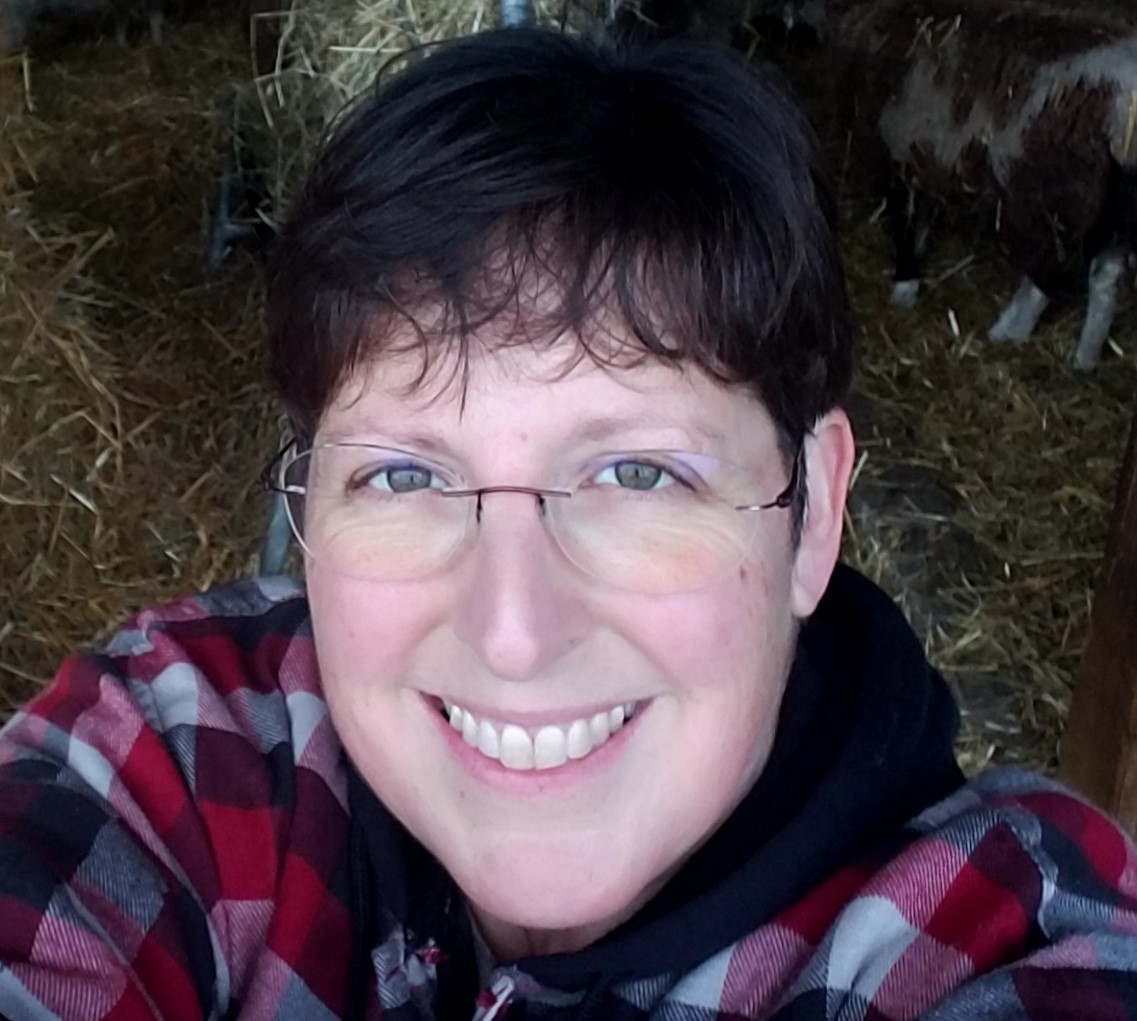 Wendy Clark has lived in area for 24 years. She found her passion for spinning after purchasing a used wheel from a local organic farmer and has been spinning for 4 years, Wendy is currently enrolled at Olds College in Alberta, Canada in their six-year Master Spinner program. She currently teaches beginning and intermediate spinning in Chehalis. She also speaks at events and organizations demonstrating spinning. Wendy is the owner of WeKare Farm & Fiber that she continues to develop with her friend Karin.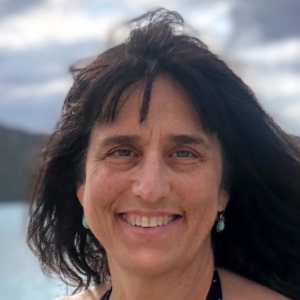 Liz Frey's weaving career began in a community weaving class in 1980 while she was still a student at The Evergreen State College. She enjoyed success throughout the 90s designing and selling wearable art – showing nationally at craft and trade shows. Frey later returned to school to gain her Master of Fine Arts with an emphasis on fiber art from the University of Washington. Since that time, she has taught Art History and studio art classes at Centralia College while maintaining her studio practice creating felted, dyed, and woven artwork.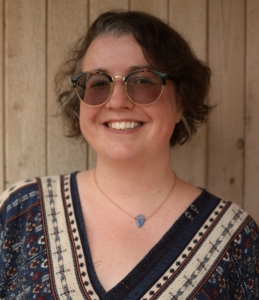 Cheryl Upshaw has been knitting for 16 years, and teaching the craft to friends and family for at least 12. Her lace shawl was awarded the Champion ribbon in the Home Arts category at the 2022 Thurston County Fair and was given Honorable Mention at the Washington State Fair that same year.
Cheryl has also recently begun the process to become a Master Hand Knitter, an intensive process that can take up to five years.
When she's not knitting, Cheryl works as a professional writer and photographer. She is the former Managing Editor of three small Nevada newspapers. Her photos have been featured in the New York Times. Her stories have been published in the Fairbanks Daily News-Miner, the Seattle Times, The Rumpus, The Toronto Star, and The Anchorage Daily News. Cheryl is an alumna of the Logan Nonfiction Program's fellowship fall class of 2021.
Cheryl lives with her husband and their pets: a dog named Macaroni and a cat named Sadie.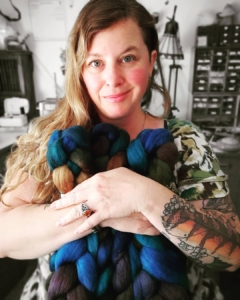 20 years ago, I saw someone spinning yarn for the first time and became hooked. I immediately set myself to learning all that I could about this fascinating craft, which is one of the oldest arts in the world. Nowadays I spin on a drop spindle, support spindle, electric and treadle spinning wheel.  I work as a professional fiber artist, selling my handspun yarn, hand dyed yarn, handwoven goods, and sewn recycled cashmere accessories at my craftsperson booth at Olympia Farmers Market and a few shops around town.  I have a deep interest in textile archeology and folklore alongside a passion for sharing spinning as both an ancient and a modern living craft.
As a recent Evergreen alum, I am passionate about experiential education. I'm a certified permaculture educator with a deep background in environmental education – creating and teaching my own garden education programs to children in elementary schools in Seattle and Olympia, and teaching adults at Seattle nonprofits Beacon Food Forest and Tilth Alliance.www.RowanGreen.com
When I'm not teaching or crafting, I garden, forage, research, travel, and play percussion with Samba Olywa. Artist website: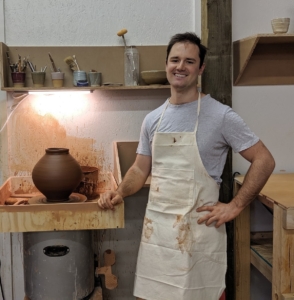 I began throwing pots in high school and quickly developed a passion for it. I received formal pottery training as an apprentice in North Carolina, where I made work in large batches to be fired in a wood kiln. I also have experience teaching ceramics at community art studios.
I moved to Tenino, WA in the spring of 2019 and am currently starting my own pottery business with aspirations to build my own wood burning kiln. I enjoy exploring traditional shapes and combining those forms with loose, gestural decorations. I primarily make functional pottery and would like to share this process with the local community to help cultivate an appreciation for handmade, everyday objects.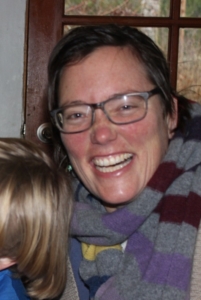 I have been working with clay for much of my life – my parents began building a house of clay (adobe) when I was 3. Graduating with a degree in Environmental Biology and a BFA in Ceramics from the University of Colorado at Boulder, I worked in potteries and tile-making studios across the west. Currently I divide my time between teaching preschool in the greater Olympia community and working with clay in the studio.  I have taught Ceramics regionally for the City of Olympia for several years. My work's content often focuses on the nature of home both ecologically and emotionally.  I am fascinated with living textures and love the reductive and additive processes that are possible with clay, thus my thrown pieces are often highly touched and altered.
.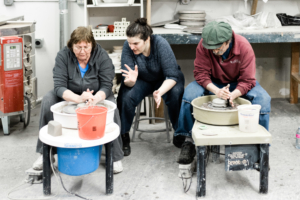 Nicole Gugliotti was born in 1979 and raised under the hot Florida sun. In 2005 she relocated to Tokyo, Japan where she lived for 3 years.  In 2008 she returned to the U.S. and her Floridian roots. Nicole completed her MFA from the University of Florida in 2014.
She has exhibited in solo exhibitions at the Tim Salen Gallery in St. Petersburg, FL and The Institute of Ceramic Studies at The Shigaraki Ceramic Cultural Park in Shigaraki, Japan.  Curatorial projects include Think Warm: Miami Draws for You at the Tomio Koyama Gallery in Tokyo, Japan and The Art Lending Project in Gainesville, Florida.
Currently based in Olympia, WA she maintains her own studio and is the Instruction & Classroom Support Technician the Art Department at South Puget Sound Community College and recent co-founder of the Socially Engaged Craft Collective.
http://www.nicolegugliotti.com/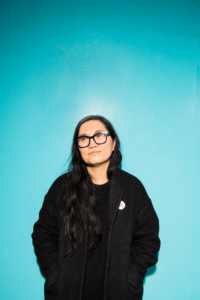 Mariella is an artist & advocate/activist living in Olympia, WA.  They make pottery full time under the studio name m.bueno.  In their spare time they advocate for BIPOC & LGBTQIA+ artists in their community & all over the state through their work with Artist Trust, Arbutus & the Olympia Artspace Alliance.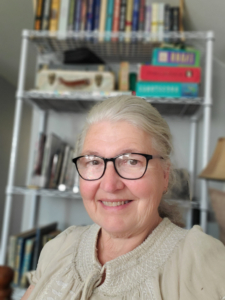 I have been interested in clay since childhood. I took ceramic classes in high school and a couple of semesters in college. In 1996 I joined Manassas Clay Teaching Gallery first as a student, then as a lab assistant, studio monitor, and apprentice. I developed a program for scouts earning badges and the first youth classes and Summer Camps at Manassas Clay.
In 2000 I began teaching at the Bowman House Community Center in Vienna, Virginia where I taught a beginner class, an intermediate class, and an advanced class.
I feel I am just sharing what I know and love. I learn in every class I teach so it is a constant cycle. I have a rule in class, "You can't say something about your work that you wouldn't say about someone else's." I follow this up by insisting on respect for the all-important first steps. Hamada said, "We must honor our first pots because, without them, there will never be great pots "
I consider myself a functional clay artist and I don't consider art and function to be exclusive. The fact that something is consumed or used rather than displayed doesn't lessen its artistic nature.
I also believe that something doesn't need to be "useful" to have value. Sometimes a pot just needs to be.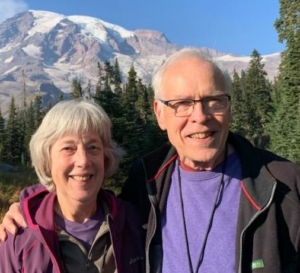 Jane and David Stone have a long history of working together in ceramics. Both studied with internationally recognized potter and teacher Marguerite Wildenhain at Pond Farm Pottery and worked together as full-time potters in the Midwest for a number of years. Both taught in the Olympia area for many years: Jane as a professor of art history and studio art at SPSCC and David as a special education teacher in the North Thurston Public Schools. They now enjoy spending time in their home studio and teaching ceramics together at Arbutus.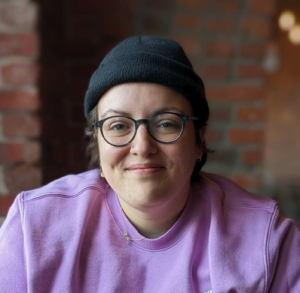 Ceramics Artist-in-Residence
I'm Elizabeth (pronouns: they/them) and I am pumped to be joining the Arbutus community. Here are some tidbits about me – My wife and I transplanted to Tacoma from Boston. My three cats are named Rainier, Baker, and Helen. I'm a maker and love to learn a new skill – candle making, paper making, the list goes on!
With my time at Arbutus, I am excited to explore my passion for building large sculptural works and to spend a little time on the wheel. I'm looking forward to getting to know the Arbutus community and collaborating when I can. Please stop by and say hello if you see me. I'd love to talk more!
Joelle Montez has worked with clay since 2009. She fell in love with ceramics while studying biology and ethnicity, and in her work she incorporates themes of natural science and social awareness. She believes that art-making has the power to heal and make great change, both personal and social, and that everyone can participate in this process.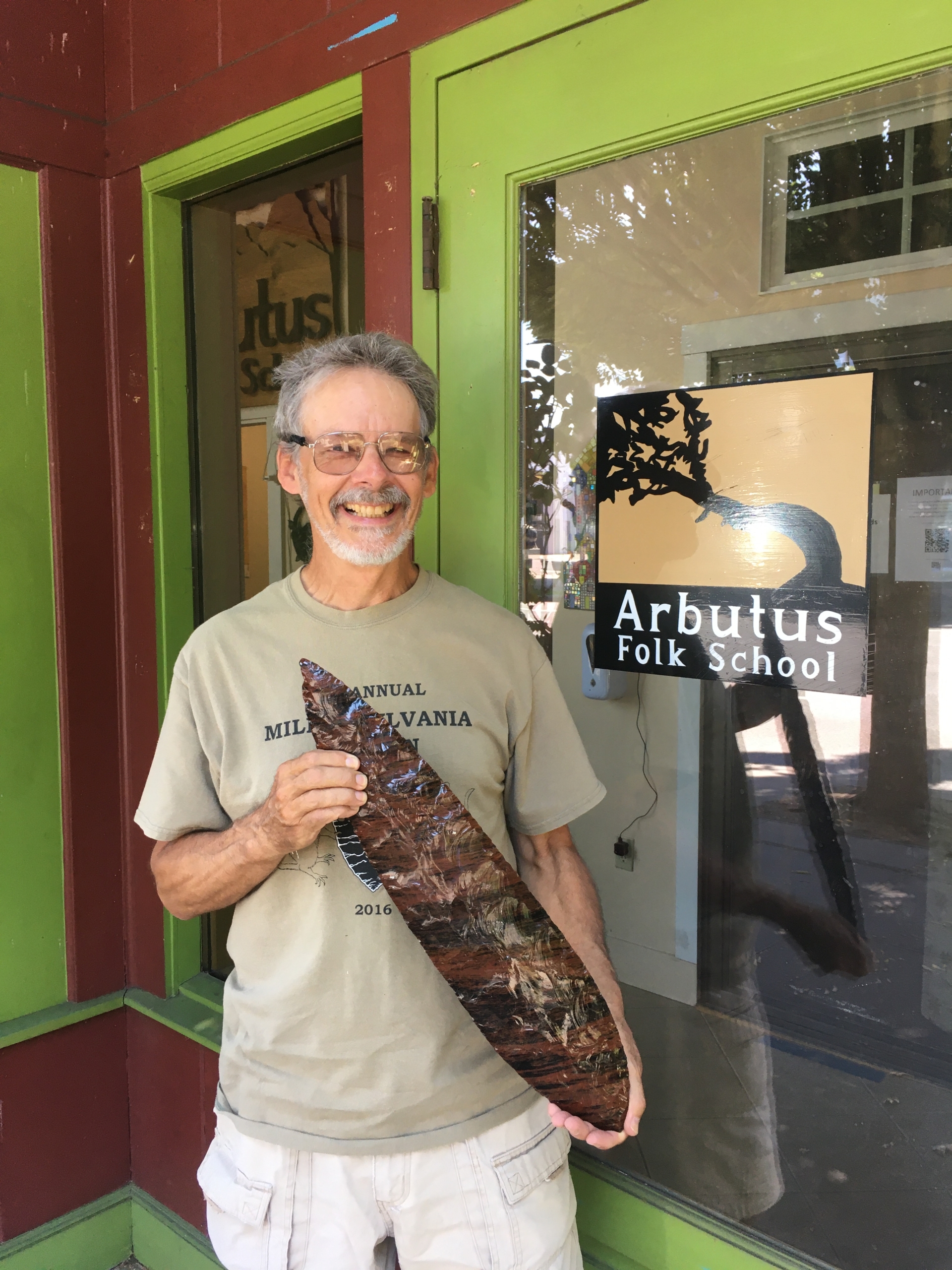 Long time knapper Mick Hill is best known for big, beautiful percussion blades, his obsidian knowledge, and his outstanding ability to teach others!  He's made hundreds of incredible large blades, visited hundreds of obsidian sites across the region, and has taught countless people the ancient art of flintknapping.
"I began this journey into flintknapping over 40 years ago. Back then flintknappers were very rare and knapping information rarer. Learning to knap back then was slowly acquired through the self "School of Hard Rocks". Now, today, with the revival in the knapping arts, the information is readily available, as is instruction from older knappers eager to share the accrued knowledge and pass it on to the next generation ….. the joy of seeing a knapping student "light up", grasping an elusive knapping concept in just a few minutes that took me years to stumble on, has made the journey more than worth it.
A long-time resident, I worked 26 years at The Evergreen State College as the engineer for KAOS-FM.
My wife Holly and I have been putting on the annual Millersylvania Knap In for 24 years.
And when I'm not beating rocks and making big blades, I'm commonly off in the deserts exploring obsidian sources. I also play bagpipes.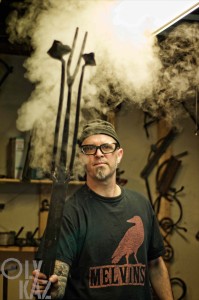 Kelly first moved to Olympia in 1988 to attend The Evergreen State College, where he was able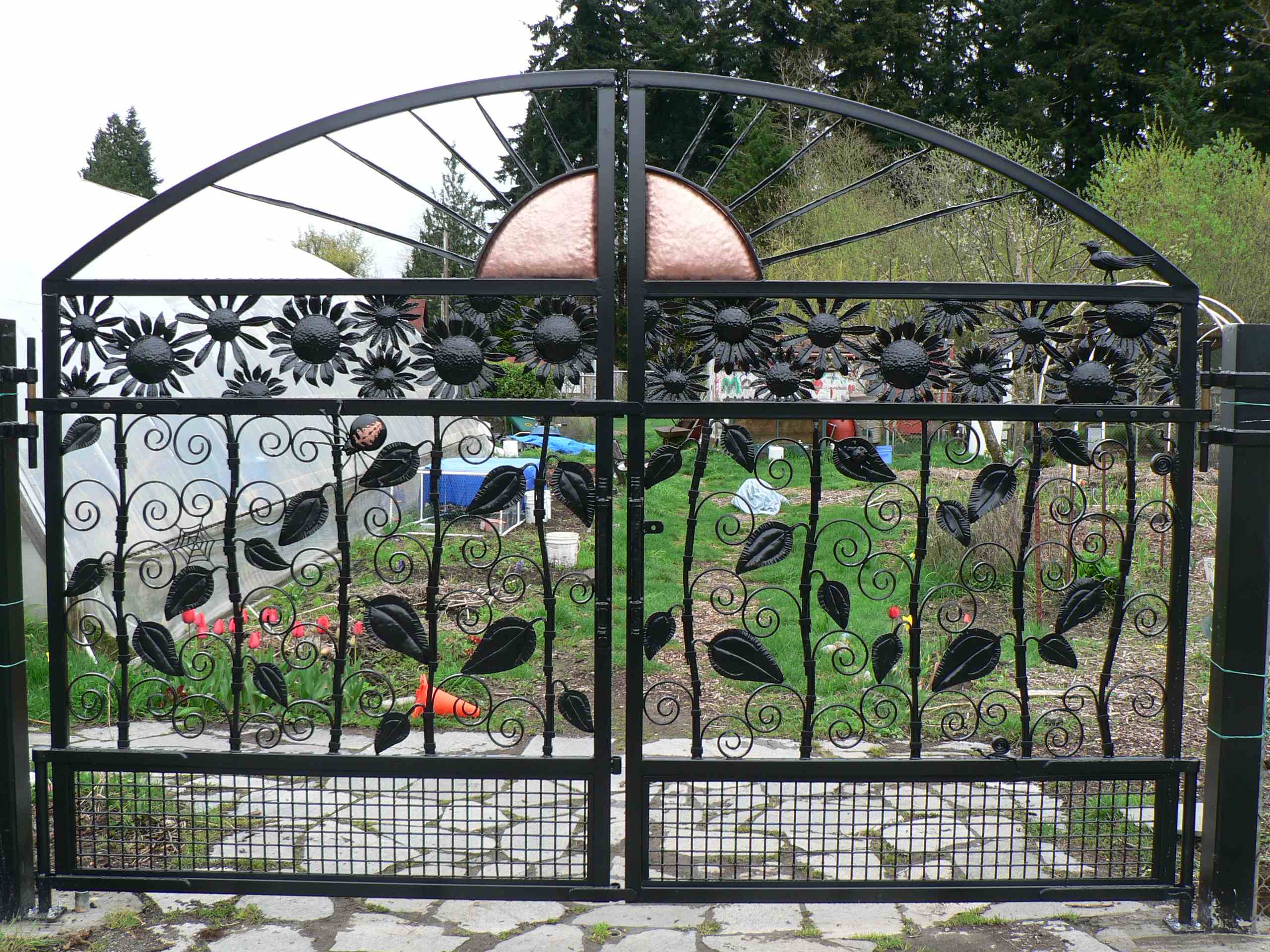 to combine his passions for natural history and three dimensional art in his studies. Upon graduating from Evergreen Kelly worked as a field biologist throughout the Northwest eventually settling in Seattle to raise a family.  While in Seattle, Kelly worked as a machinist, gaining an interest and skill in working with metal. Kelly soon inherited his grandfather's coal-burning forge and a couple of basic blacksmithing tools.  He studied at Pratt Art Institute in Seattle as well as with local blacksmiths. Kelly and his family returned to Olympia in 2006, and Kelly started his own business, Big Hammer Technology.  Kelly's metalwork draws on his passion for the natural world where birds, insects and natural forms are reoccurring themes.  Kelly has taught  blacksmithing classes at South Puget Sound Community College and The Evergreen State College.  Kelly is excited to have the opportunity to continue the blacksmithing tradition of teaching others his craft.  At Arbutus, Kelly will be teaching beginning and intermediate blacksmithing techniques and how to set up a basic home smithy.
IMPORTANT NOTE: BLACKSMITHING CLASSES ARE LOCATED AT KELLY RIGG'S STUDIO AT 6305 Rich Rd. SE, Unit C, Olympia, WA. Click here for Google map. (Yelm Highway to Rich Rd SE, 3/4 Mile (or so) on right hand side to "Arts Park" main entrance. Look for the "Studio 23" sign above the studio entrance.) Please bring a lunch or drive to food services nearby.
Ben Luca Robertson, Ph.D.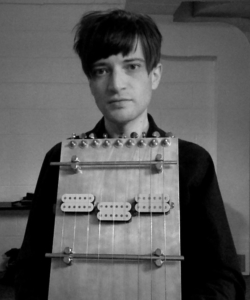 Ben Luca Robertson is a composer, experimental luthier, and co-founder of the independent record label, Aphonia Recordings.  Growing up in Eastern Washington, impressions of Ponderosa pine trees, channeled scablands, and relics of boomtown decay bear a haunting influence upon his music.  Therein, his creative approach reflects an interest in landscape and biological systems—often supplanting narrative structure with an emphasis on the physicality of sound and place.   Recently, Ben collaborated with regional biologists to convey scientific data from migrating Chinook salmon using sound (sonification) and has composed chamber music based upon data from rare snake species'.  In addition to composing for acoustic and electronic ensembles, Ben designs and constructs his own bespoke instruments and microtonal scales.  As an instructor, he is passionate about sharing his love for the physical properties of sound, instrument design, just intonation, and tuning theory.  Ben holds a PhD in Music Composition and Computer Technologies from the University of Virginia, an M.A. in Music Composition from Eastern Washington University, and a B.A. from the Evergreen State College.  He currently teaches music and audio production at Pierce College.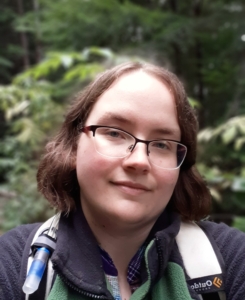 I graduated from Central Washington University in 2013 with a BFA specializing in studio arts. My primary art mediums are needle felting and watercolor, but I also work with and teach a variety of other mediums. The inspiration for my artwork comes primarily from nature here in the Pacific Northwest. I like being able to use my art as a tool for educating the public on lesser known or misunderstood species.  
 I have been teaching since 2016, it is one of my favorite parts about being an artist. I love seeing my students grow as individuals and improving their skills. I have primarily taught visual arts lessons to K-5th grade students at elementary schools, but I also enjoy teaching painting lessons to senior citizens at my local senior center. 
View Amanda's artist website here!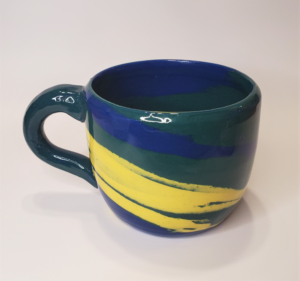 I was born and raised in Berkeley California, where I first took ceramics classes as a young child. I always loved the medium and as an adult I began working at the same studio where I took classes as a kid. I taught at that studio for two years before moving to the Pacific Northwest. I aim to give students the same experience with ceramics that made me fall in love with it as a child. In my personal work I focus on marbled pieces using colored porcelain. I primarily make functional pottery, but also occasionally make sculptural work and purely decorative pottery.